Canapés are appetizers that you can eat in one bite since they are usually small pieces of bread, and also you typically prepare them for parties or meetings. There is a massive variety of them, and today I will focus on the techniques to make you realize how to store canapes correctly.
Canapés do not usually last long since the idea is to eat them as soon as possible. But they can be stored in airtight containers at room temperature or in the fridge for between 12 and 24 hours.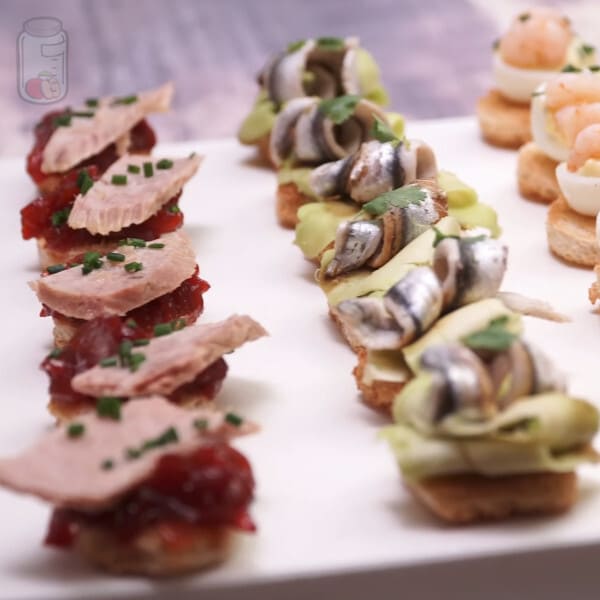 If you want to learn how to preserve canapés to last as long as possible, just read on.
How to preserve canapés
As mentioned at the beginning, there are many you pos of canapés. These can have a base of bread, ground cookies, or puff pastry dough, and on this basis, you put some cream, sausages, shrimp, etc.
For this reason, determining how to preserve the canapes is complicated; that's why I'll try to be as specific as I can.
Keep the complete canapés
If there are too many canapés, or you want to prepare them in advance, I will tell you what to do to store them for a long time.
Mostly, canapés that do not have cream, shrimp, or any other product that needs refrigeration can stay at room temperature. 
If you serve them soon, you can place the canapés on a tray and cover them with film paper. 
To store canapés at room temperature for a bit longer, you have to do the following:
Step 1: Use an airtight container.
The airtight container can be plastic or glass, but the important thing is that it closes well. In addition, it must be completely dry and clean.
Step 2: Place waxed paper between the canapés.
You can stack some canapés without much problem, but I recommend placing a layer of waxed paper between them as long as you do not disassemble the canapé because, in that case, it is advisable not to stack them.
Step 3: Save in an isolated place. 
Place the canapes where there is not much ventilation, and preferably it is dark. Thus the canapés can be stored for between 12 and 24 hours.
To store canapes in the fridge is usually meant for those made from high perishable products or simply cold canapes, and it is straightforward.
I recommend placing a clean and damp tea cloth on top to prevent them from drying out, and they can be well for about 6 or 12 hours in the fridge. 
Keep the canapés in parts
Some components of canapés are preserved in different ways. For this reason, it is better to keep the canapés in parts and then assemble them minutes before serving them. In fact, the experts recommend storing them in parts as it preserves the canapés for longer. 
Although this is clear, it requires investigating how to preserve each component that makes up the canapé and check which methods best suit our needs.
For example, you can keep bread in an airtight bag at room temperature for two days and in the freezer for 3 to 6 months. To preserve the puff pastry bases, you can refrigerate it for 1 or 2 days or freeze it for three months.
You can also keep smoked salmon for five days inside the refrigerator and two months if you freeze it. To preserve the ham, you can put it in the fridge for 5-7 days or in the freezer for four months.
How do you know if the canapés are bad?
To know if a canapé is bad, you must check if it has green, white, or black spots; it means that it has developed mold, and you have to throw it away immediately.
Then, if it has no stains, you should smell it; if it smells terrible, like stale or rotten,  it means that it is spoiled and you have to throw it away. The same if it tastes bad.
How do canapés spoil?
Canapés are composed of several ingredients, with the intention of eating them immediately. For this reason, they do not usually last long.
For example, canapés based on bread, puff pastry, or ground biscuit with creamy filling or cover will absorb moisture, which causes them to lose their firmness and consistency. 
In addition, this humidity causes bacteria to develop much faster. If we expose the canapes for a long time to room temperature, the proliferation of bacteria is easier.
And it is that being exposed for so long to the outdoors, without being protected from the different external agents that can contaminate food, is what most affects all canapés in general.
How long do canapés last?
The canapés do not have an exceptionally long shelf life. Check the table to see the storage time of the canapé.
| | |
| --- | --- |
| Product | Duration |
| Canapé at room temperature | 12 – 24 hours |
| Refrigerated cold canapé | 6 – 12 hours |
What is the best way to preserve canapés?
Unfortunately, canapés do not have long-term storage since they don't last long due to the ingredients that this delicious appetizer has.
Therefore, the canapés should be preserved in parts since each component will last much longer separately than the complete canapé.
Check these related topics now!