Latkes or latkas are pancakes or fried pastries prepared by mixing potato or grated potato with egg and vegetables. It is a typical recipe of Jewish cuisine, but how should latkes be preserved?
By having eggs and vegetables, latkes cannot be too long at room temperature, but you can refrigerate them for 3 to 4 days and freeze them for two months.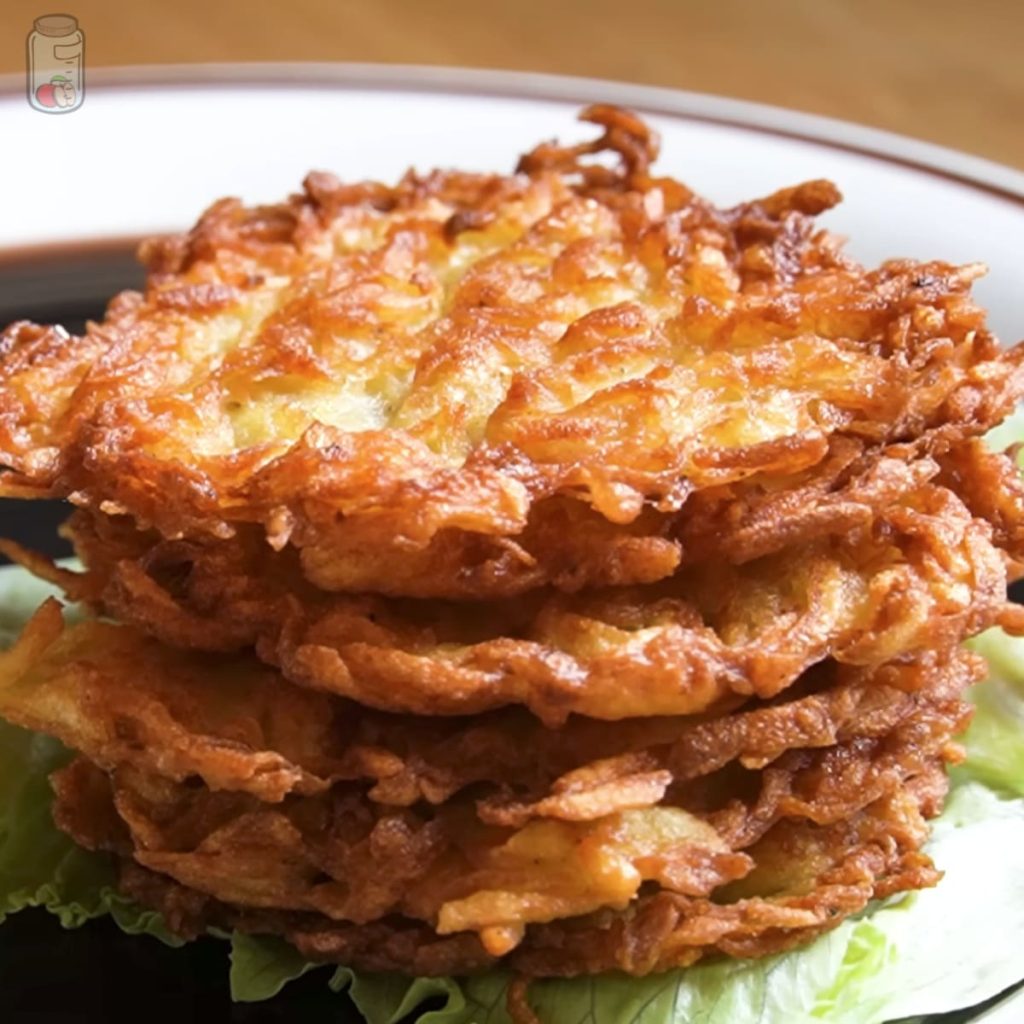 You just must continue reading to know how you preserve the latkes.
How to keep latkes in the fridge
Due to the ingredients in latkes, usually vegetables and potatoes joined with egg, you cannot leave long at room temperature, only between 2 or 3 hours maximum.
So, to store the latkes in the refrigerator, you must proceed as follows:
Step 1: Wait for the latkes to cool.
When you remove the latkes from the oil, put them on absorbent paper or a rack until they cool while draining the excess oil.
Step 2: Put the latkes in a container.
First, line the inside of the container with absorbent or waxed paper, arrange the latkes next to each other, and when you are going to put others on top, place a layer of wax paper or parchment first.
Step 3: Store the latkes in the fridge.
Cover the container well and leave it in the coldest part of the refrigerator. That way, the latkes can be between 3 and 4 days refrigerated.
How to freeze latkes
Can latkes be frozen? Of course, you can freeze the latkes, especially if you want to prepare many to stock up on this delicious recipe for a long time.
Step 1: Wait for the latkes to cool.
Place the latkes on absorbent paper or a rack until they cool completely and drain all the oil well if you fry them.
Wrap each latke with aluminum foil, wax, parchment, or cling film to prevent latkes from suffering frost burns.
Step 3: Put the latkes in a container.
Put the wrapped latkes inside a sturdy container, although you could also use a bag to freeze.
Step 4: Write the date of preparation of the latkes.
Put the date on the bag or container; either write it directly or stick a label or tape and place the date there so as not to scratch the container.
Step 5: Store the latkes in the freezer.
In this way, you can freeze the latkes for two months. You do not need to thaw it to reheat them; latkes cannot be re-frozen. 
How to reheat latkes
To reheat latkes in the microwave, put them inside the microwave at medium or high power in batches of 30 seconds, but in this way, they will lose their crunchy texture.
Another option would be to heat the latkes in the oven; you must put them at 390°F (200°C) and bake them for 5 minutes if you refrigerated them and between 10 and 15 minutes if you froze them. You must put the latkes on a tray with parchment paper or nonstick foil.
If you want to reheat the latkes in the air fryer, set the temperature to 390°F (200°C) and heat for 2 or 3 minutes if refrigerated or between 5 and 8 minutes if frozen.
How do you know if the latkes spoiled?
To find out if the latkes got terrible, check for unusual spots or lint in shades of black, green, or white because it is indicative that mold has developed and is no longer safe to eat.
Another sign that latkes are in poor condition is their smell and taste, so when latkes give off a rancid or rotten smell, or if they have a terrible taste, it is because they are spoiled.
You should also not eat the latkes if they become watery, viscous, or very hard asthey were not stored correctly; therefore, they are damaged now.
How long do latkes last?
| | |
| --- | --- |
| Product | Duration |
| Refrigerated latkes | 3 – 4 days |
| Frozen latkes | 2 months |
What is the best way to preserve latkes?
Unfortunately, raw latkes cannot be stored in the fridge or freezer because of the egg and vegetables that would modify the consistency of the latkes.
Therefore, only cooked latkes (usually fried, but you can also bake them, grilled or in the air fryer) are the ones you can store.
So, the best way to preserve the latkes is to freeze them because it will keep them for a long time. However, you can also refrigerate the latkes, as they are also known, for a few days.
You should keep in mind that reheated latkes will not have the same consistency as freshly made ones. Still, if you heat them in the microwave, they will radically change their texture.
If you are interested in knowing how to store some other dish, here you have many topics that cover this point and can be beneficial. In addition, I update the published information and add new topics regularly.